Hey all,
It's a bit late, but i have been incredible busy last few weeks.
Here my report from visiting world con:

Visiting world con
This year World Con was in London, so it was reasonably close by to the Netherlands. That was one of the reasons I went to London. Another reason was that the Wheel of Time was nominated for a Hugo award. (Plus personally I wanted to see a couple of musicals)
World Con is a huge convention that travels around the world. For more information see
http://www.worldcon.org/
It went from Thursday 14 august till Monday 18 august.
There are a hundreds of panels so it's hard to choose where to go to. I have been to a reading of George RR Martin in which he read something from the World of Ice and Fire and panels with Robin Hobb, Michelle Sagara, Seanan McGuire and so many more authors.
Besides panels there is also a dealers room (with lots of cool stuff) and a fan village where you could also get some free books. My suitcase was 11 kg's on the way to London and back to the Netherlands it was 20 kg's. I got or bought 17 books!
The atmosphere is slightly different than other conventions. There are less people dressed up and there are a lot of people who are more focused on fantasy and science fiction works they consider literature. (and who look down on the wheel of time)
But besides that, it's a really nice convention and you can meet a lot of authors and hang out with other fans. One of the other fans I met up with was Joel. (I already know him from JordanCon). On this convention he liked to hang out in the fan village and make glitter tattoos. (which are awesome) He is thinking of bring some to Jordan Con. (he helps to organize Mini con
http://mnstf.org/minicon50/
)
Getting a WOT glitter tattoo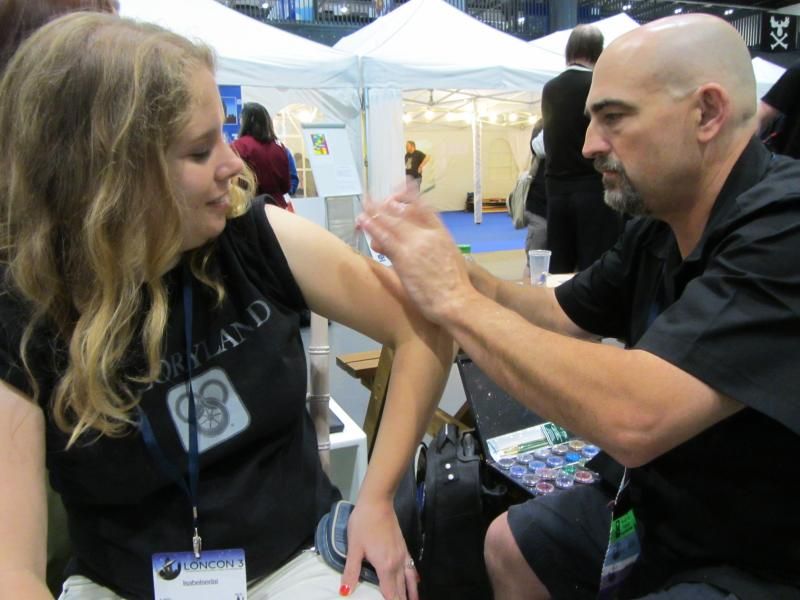 Besides Joel I met a few other Wheel of Time fans. I will name a few: a woman dressed as Nynaeve (which was an awesome costume), two guys from Sweden and Austria (?) and an American who moved to the UK. They were all very nice

There were also lots of other wot fans, but some seemed intimidated when they saw my Theoryland t-shirt. If you wanna check out that we don't bite go to
www.theoryland.com
There was also a Wheel of Time panel called the Road Goes Ever On and On: the wheel of time. It was moderated by Adam Whitehead and the guests were Harriet McDougal, Maria Simons, Wesley Chu (author) and Peter V. Brett (author).
The atmosphere at the Wheel of Time panel was really great! I have been to Wheel of Time panels before and it was still awesome. This time I didn't make notes, but I would like to share some good moments.
Wesley Chu asked who (he was thinking of RJ or Brandon) made the decision to kill Bela. (and he is sitting next to Harriet) When he asked that Maria just started laughing

I think Harriet went into her editor mode (not sure) and explained to Wesley all the reasons why Bela had to die. She described the situation Bela was in and explained the Trollocs were hungry! (she said it way better than me and the explanation was longer).
Peter V. Brett described the time he met RJ. He asked him a question about if you ever write for your public or change things for them. RJ apparently told Peter quite strongly that you should never ever do that.
As Adam Whitehead reported: the Wheel of Time companion will be big. It will also include all the information RJ had on Tam. (so probably all the information that would have been in the prequel is also in the companion)
Maria was asked what the strangest thing was that Jordan asked her to research. That was researching how babies feel when they are being born. (Jordan didn't tell her why he needed that researched)
Harriet also thanked all the fans for the nomination of the Wheel of Time for the Hugo! She told us that Jordan also considered it one big story.
On Sunday evening the Hugo ceremony. I am still sad about it, but I do want to share the picture I made.
I hope you liked my report!
Isabel